There is an interesting phenomena out there in the cycling world – bikes and beer.  Well, it isn't that much of a stretch after a long ride on some kick ass trails, or that wonderful road ride with some great city limit sprints.  Sitting down with friends to recount things just needs a good beer to replenish those missing carbs.
What's interesting is the way the cycling culture has embraced the craft beer movement, and even more so, craft brewery apparel.  Flick through any social media post from almost any brewery and there will be a mention of a ride, race, or slow roll, sponsored by the brewery or possibly ending at one.  The fans of those breweries will likely show their allegiance by wearing their beer on their sleeves, literally, jerseys with craft brewery logos are hot!
Why jerseys?  One of the reasons, besides the partaking of the product of the brewery, is that the artwork the breweries use is so creative, unique and striking. It just makes a great looking jersey that appeals to a wide variety of people.  I am always stopped in my tracks when I'm walking the production floor and see a brewery jersey being made. If I had the closet space I would have so many jerseys; I wouldn't have to wash cycling gear for weeks! Designs by Rising Tide, Bell's, or Bitter Root, are all beautifully different and would clearly express their mood and style.
Unlike wearing a jersey from a local bike shop, or a component manufacturer, the allegiance to a brewery has more mass appeal and doesn't bring up rifts that are as deep. Cyclists are usually good-natured about what they ride or who they support, but if they are competitive at all there can be a chasm between two people.   If rider A is wearing a jersey touting an IPA and rider B has a Shandy jersey, an immediate bridge is built. Rider A might not agree with Rider B's choice of beer, but they can both agree on one thing, beer.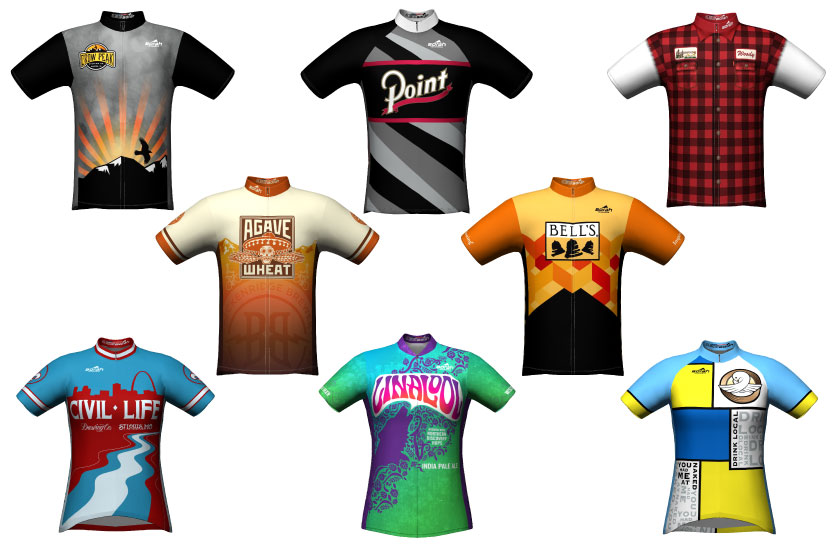 This is not limited to fellow cyclists. I was riding home from work one evening, on a beautiful country road commute, and a very typical looking Harley rider came up behind me.  He had to go slow as we went around a corner together, and instead of blasting me with his pipes, he gave me a huge thumbs up! I don't think it was because we were both on two wheels, I think it was because I was decked out in my Point Brewery kit!
It isn't just me working in the apparel business that has noticed this. Dirt Rag magazine did a nice write up in December of 2015 as well. One thing they noted was the rise of shops that were located near, or even tied into breweries. Corporations, like Trek, have beer on tap for those after work rides or trail work parties. Even as I write this, the leavings of last night's final Cyclocross practice can be found here at Borah (it looks our local Pearl Street Brewery and PBR were the two clear choices).

Cheers –
Tad
Written by Tad Hylkema, Business Development and Events, Borah Teamwear