For my first blog entry, I thought I would write about something I am very passionate about, making sure all of our apparel is made by us, right here, in Coon Valley, Wisconsin. There are so many good reasons for manufacturing your own products in the US, but it certainly is not the "way of least resistance"! Luckily, for me, and all of us at Borah, manufacturing in the US is the only thing we know. Oh, full disclosure here, I have had a close call or two with overseas opportunities, and even went down the path of sending samples to a factory and having them send back counter samples along with pricing. The appeal was certainly there, I must admit. To simply issue a PO and have the products magically appear, without having to order all of the individual components such as elastics, pads, hang tags, poly bags, etc.. not to mention fabric inventory and attractive margins. And, surprisingly, the quality of the garments is not all that bad either. But that is where I always stopped, "not all bad" is "not acceptable" to us. I also had this feeling of guilt, as if I would be selling out to the dark side, taking the easy way out, and certainly taking a risk I was not willing to accept. What about sending our facility's jobs overseas? I could not, in any way, accept that. After 20 years of US production, I simply could not go down that slippery slope! And to top all of that off, I have to thank my wife Heidi for always keeping me on track, her commitment to Made in USA has never wavered, and for that, I am so very thankful. All this to say that I am so proud that we have stayed true to our roots and held the course.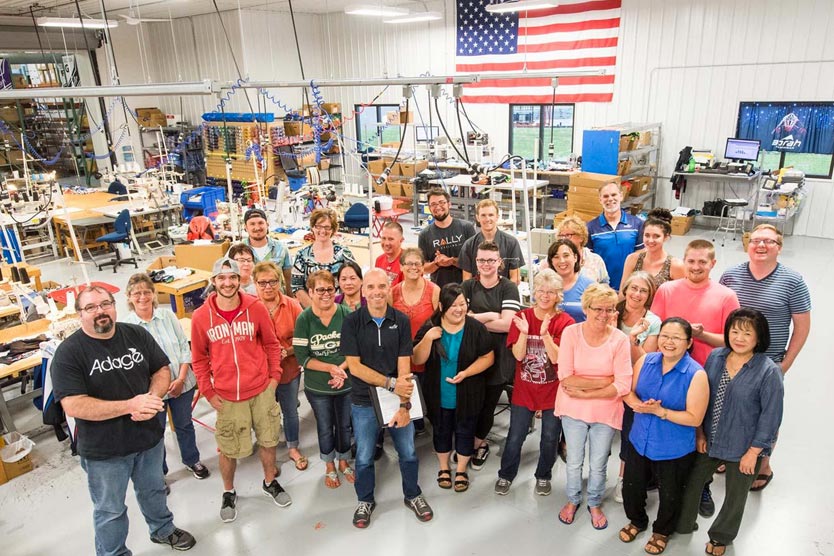 Now, let me explain in a bit more detail why I am so passionate about our commitment to US-made products. First and foremost, if we were to outsource our production, we would have about half the employees we currently have. We would not have 10 sewing machine operators, a print tech, a heat transfer tech, and 3 fabric cutters. Now some might say that is a good thing. Fewer employees is better, right? Well, not at Borah, since our mission is to create a positive and healthy work environment and we mean it! I have seen lives transformed by our employees taking part in a daily fitness incentive, riding our single track flow trails, or participating in our Thursday Tai Chi sessions. And, I can tell you that this is much more rewarding than any financial gain could ever be.
LeAnne Quackenbush, our Cutting and Sewing Coordinator explains what "Made in USA" means to her: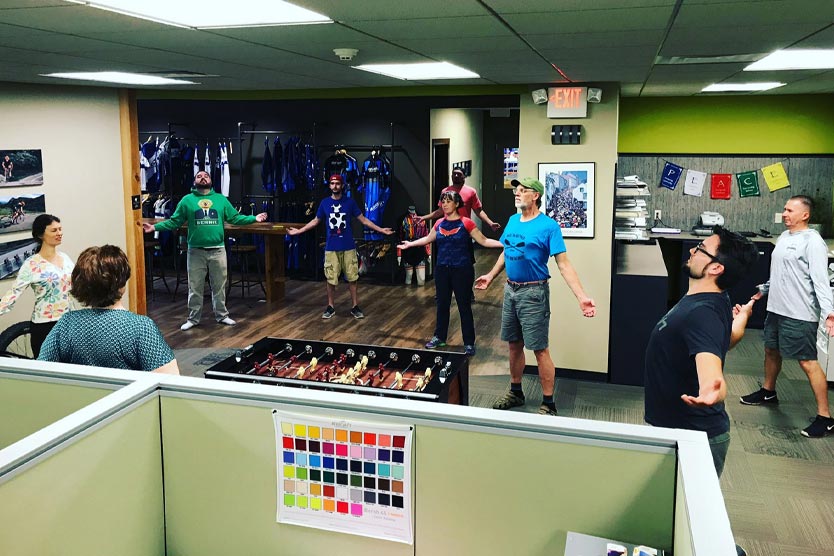 Another reason I am a firm believer in USA production is that it is green, really green if you think about it. If we were to source from overseas, then each custom order would need to be shipped across the pond, most likely by air due to time constraints. I have never "ran the numbers", but I have to believe that our carbon footprint is a fraction of our overseas competitors. Not to mention the fact that we installed a solar array which produces 50% of the energy used to manufacture all of our products. I always get a kick out of companies that promote "green" fabrics such as bamboo or hemp. While something is better than nothing, I would have a hard time really believing my bamboo shirt, manufactured and shipped from overseas, would really be green compared to a US-made shirt from US fabrics (even if it is not made from a recycled or green fabric). The US has very strict environmental regulations compared to most any other apparel production hub in the world. I much prefer the transparency of our production cycle versus the unknowns of overseas production.
Raven Stevenson, our Production Manager explains one of the reasons he loves working for a small company that produces in the USA: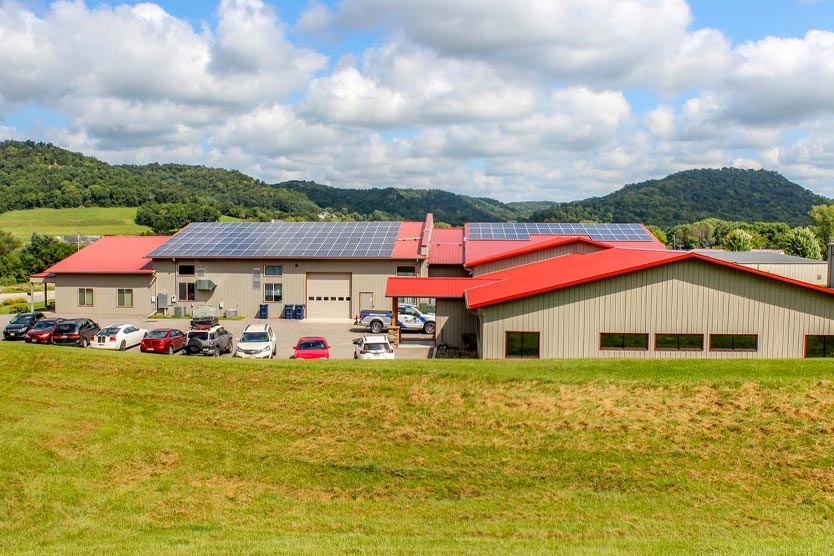 Finally, producing our own garments allows us to offer a level of customer service which our competition simply can't afford to do. By manufacturing our own garments, we have complete control over the entire production process. From your initial contact with Borah, all the way to the final delivery of the product, we have complete control. Hey, we are not perfect and we make mistakes. But, at least you have the comfort in knowing that if your order is not 100% as you expect, we can do whatever it takes to resolve the issue. I can't tell you how many times we have had clients contact us and say that their order from a competitor was either wrong or not delivered on time. Fortunately, we are typically able to "save the day" in these situations and get the client exactly what they need.
Take a quick tour around Borah and see why Made in USA is great for your team:
So as you can see, we are quite passionate about our made in USA commitment. Hopefully, this blog will give you a little more insight as to why made in USA matters to all of us at Borah Teamwear!
Happy Trails,
Chris Jackson
Owner