11/2/2021
With this year's Bell's Iceman Cometh Challenge just a few days away, we had a chance to sit down (virtually) with the ICEMAN himself, race founder Steve Brown, to ask him a few pressing questions.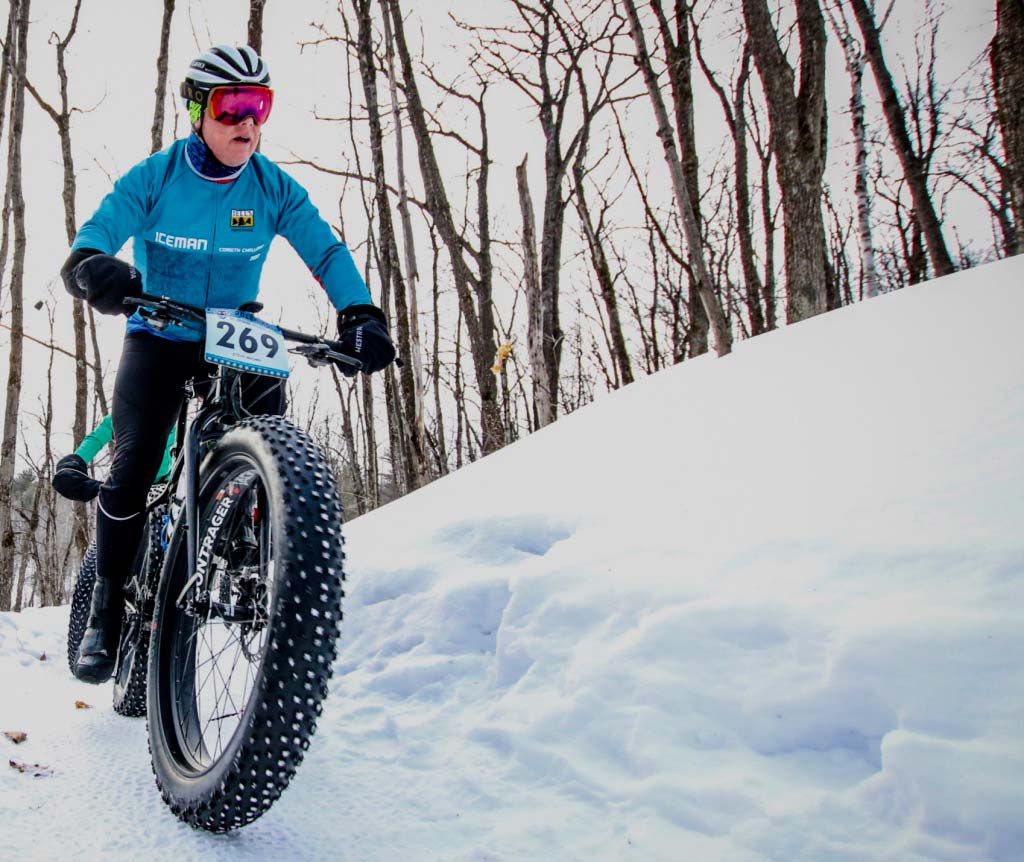 BORAH: What is your fondest memory(s) of past Iceman's?
STEVE: Certainly, the most memorable year (not necessarily my fondest) was the year it was breezy and clear in Traverse City but halfway to Kalkaska it started to snow and by the time I arrived in Kalkaska it looked like Christmas. A very soft and gentle lake effect snow. Or so it appeared. It was the slickest snow I have ever encountered. You pretty much had to drive on the very edge of the road with two wheels on the gravel to get any grip with your tires.
About an hour before the scheduled start it became apparent that a lot of racers were not in Kalkaska. Even the timers were missing. A semi had jack-knifed on M-72 headed towards Traverse City completely blocking the road. It created a three-mile-long traffic jam headed east. That year's bike riders were very adept at dealing with the challenge and a little adverse weather was not going to stop them. Some just got on their bikes to finish the trip to Kalkaska. Others ducked onto some of the dirt roads in the area and some followed a long detour around the accident to reach the start line. Once the road commission salted & sanded the road, the driving conditions improved dramatically. The timers finally arrived and we started the races an hour after the scheduled start time. The course conditions were extremely slippery and most riders crashed five to seven-time apiece. My brother-in-law still swears that was the most fun Iceman he's had.
BORAH: What are you looking forward to most about this year's race?
STEVE: Seeing everybody again and catching up with everything they've been up to. Connie and I have missed our cycling family.
BORAH: What makes this event stand out from other MTB events?
STEVE: The unpredictable weather in Northern Michigan makes every year different and unique. Some years have been complete mud and snow bogs while others have been sixty-five degrees and sunny. Every athlete has to be prepared for whichever weather we may have so a lot of planning goes into their race. The first weekend of November is also a very unique time in the Pere Marquette State forest. The light is soft, witch hazel is blooming, and everything has a quiet feel to it. It's a special time to be riding a bike in the woods!
BORAH: Tell us the story behind the "Iceman" name.
STEVE: Eugene O'Neil penned a play named The Iceman Cometh. It just seemed to fit the concept of a point-to-point mountain bike race in Northern Michigan in November.
BORAH: Why are custom-branded jerseys and apparel important to the success of the event. How do you like working with Borah?
STEVE: Bell's Beer has been our key sponsor for over ten years so we've had a lot of fun designing each year's jersey after one of their beers. Our 2021 jersey features a new beer for Bell's. No, Yeah is an easy-drinking golden ale that celebrates a few of the expressions you hear all around the great lakes. -Just gonna sneak past ya. -Ope, sorry. -Watch out for deer, etc. This year's jersey is not shy even if it's very Midwestern. The colors are vibrant! The design of this year's long sleeve jersey makes me feel like I am riding in my pajamas!
BORAH: The annual Iceman jersey purchase has become a collector's item for some riders. This speaks to the iconic or legendary status of the race. What is the secret sauce that keeps people coming back year after year? Is there a specific year's jersey design that stands out or you get asked about?
STEVE: Cyclists understand value. Quality materials, sewing, and fit are all important aspects we consider when making an apparel purchase. Borah Teamwear hits the mark in all those categories. Borah's process from concept, design, to delivery is efficient and fast which gives us confidence that we'll have everything we need to have a successful event.
There you have it! We hope you enjoyed our interview and are planning on attending the event. The 2021 Bell's Iceman Cometh Challenge is November 6, 2021, and will take racers from Kalkaska to the eastern edge of Traverse City, Michigan. Borah Teamwear will have a booth at the Ice Cycle Expo. Come check us out!